Support the development journey of jobseekers or employers through our career coaching platform.

If you have an existing coaching or mentoring programme or are looking at how to deploy one, our scalable coaching and mentoring module supports organisations in their roll-out of such initiatives. What our clients value the most from this solution, is the ability to fully track, rate and review the use of the initiative and content.. Allowing you to track the effectiveness and ROI of such activity.

The SeeMeCV Career Coaching & Mentoring module allows you to deepen your relationship with jobseekers or employees. Creating a safe and secure space for you to present connection opportunities for individuals with relevant coaches or mentors from around the world. This solution can be plugged into our VF or Career Portal offering, or used independently.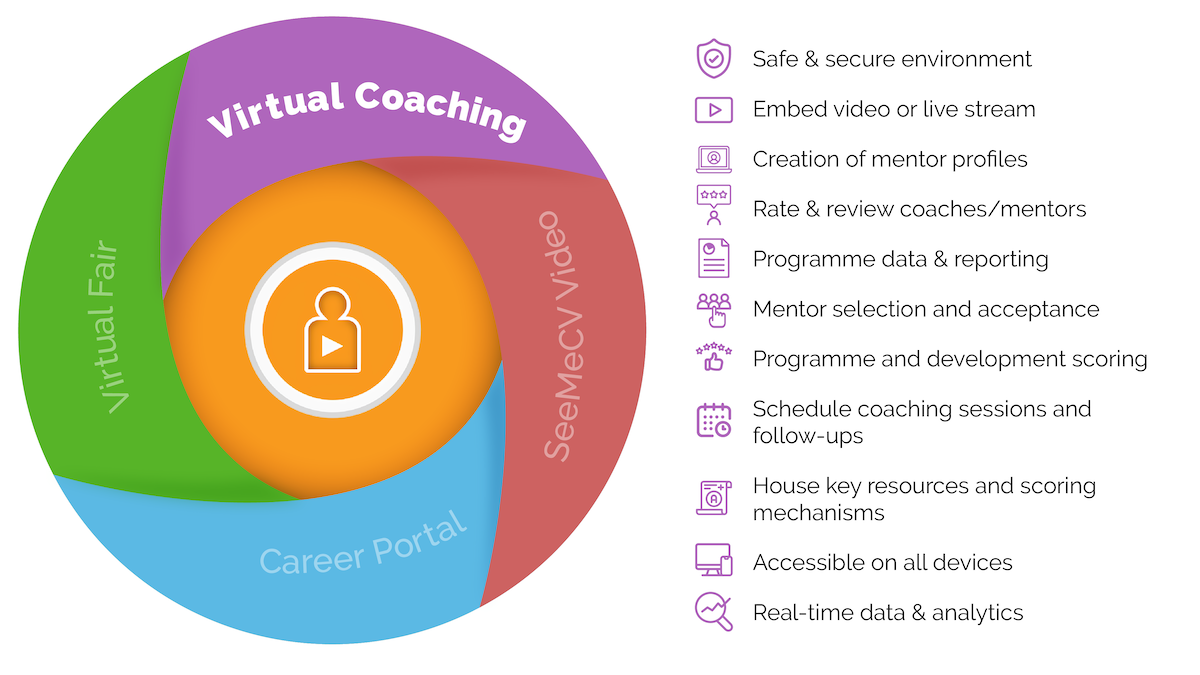 Create a mentorship programme:
The SeeMeCV Career coaching module allows you to deploy your programme and content, facilitating and tracking:
Creation of mentor profiles with bios, videos and reviews
Mentor selection and acceptance functionality. Allowing mentees to reach out and select their mentor directly
Programme and development scoring
Grow with a Career Coach:
The career coaching section provides:
Listings of available online career coaches
Ability for individuals to directly reach out and connect
Schedule coaching sessions and follow-ups
Embed video or live stream
House key resources and scoring mechanisms
As with all coaching and mentoring relationships, our SaaS based solution can be tailored to meet your organisational needs to ensure it continues to grow and evolve with you. Plug in your programme and activate it online with SeeMeCV.
Contact
If you would like to know more about SeeMeCV's solutions and how we may be able to support your recruitment activities now or in the future. Please do contact us, using the form below.